By Blessing Tunoh Asso
Living inside plastic sheets
In a small tent in Kawa Maila camp for internally displaced persons (IDP) in Maiduguri Borno state, Hauwa Babagana, finds home.
Her hubby, Babagana, had partitioned the small shelter with plastic sheets and wooden batons to create an extra bedroom for the family.
Hauwa lives in this shelter with her husband and four children. But she has not always been destitute.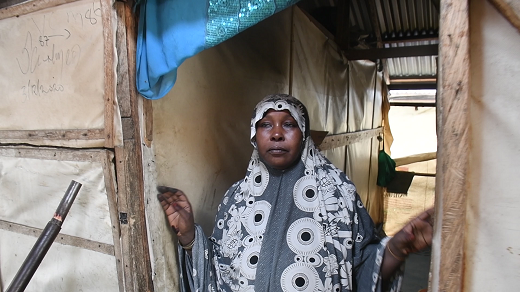 The over 12 years war against Boko Haram insurgents has reduced Hauwa and her family to this living condition.
In 2014, Hauwa and her family were displaced from Kumshe, a border town in Bama local government of Borno state when Boko Haram fighters attacked her hometown killing anyone on sight.
Her family was forced to join thousands of other villagers to flee through safer Borno towns, but they were chased away each time by fresh attacks.
"From Kumshe we fled to Dikwa local government and spent 25 days. From there, we moved to Gamboru Ngala where we spent a week and they attacked us again in the second week.
"So, we moved to a village called Gishiri where we spent three weeks and Boko Haram attacked again and we fled to Kalabalge on foot. It took us seven days," Hauwa told our correspondent.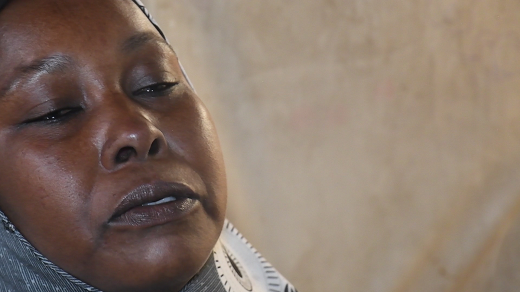 Always on the move
Displaced persons are extremely mobile especially when conditions are not favourable to them.
Little wonder why Hauwa and her family moved out of Kalabalge, six months after the settled there and crossed the border for the first time since their displacement to Balema, a small village in Cameroon.
They had learnt that it was safer, and life was better in Balema but they were soon to learn that was not entirely true.
"We were in Balema until the rains came into our rooms, the floors started to break, and snakes and scorpions would come out of them. That was how our stay in Balema came to an end and we headed to Kusiri," she recalled.
There were about a thousand them, by her estimation.
They lived off alms and left over from their hosts and children instantly became the bread winners, bringing food home to feed everyone.
Another tragedy struck Hauwa and her family when her five children disappeared during a Boko Haram attack in Kusiri, sending everyone fleeing for their lives.
While the children had moved to an unknown town in the ensuing confusion, Hauwa and her husband initiated desperate efforts to find them.
The idea that they would not see their children for another five years was completely out of the question.
This was because their search efforts suffered a serious setback when the Cameroonian Government had enough and brought trucks to take the displaced persons back home.
Hauwa was one of the hundreds of Nigerian refugees packed into a truck and dumped at the doorsteps of Nigeria in a border town called Mubi, in Adamawa state.
Nine people did not survive the congestion -their corpses were retrieved upon arrival in Mubi where their displacement journey came to an end.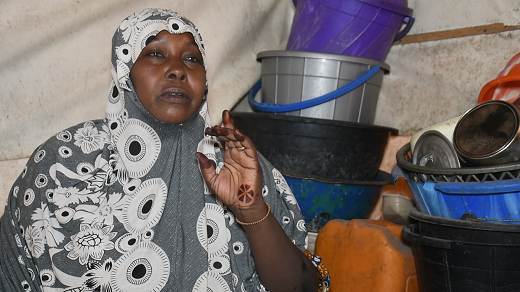 "From Kusiri, they loaded us into a truck for transporting cattle and filled it to capacity like animals," Hauwa recalled mournfully.
'By the time we got to Sauda, a border town, nine people had died. They dumped us there and left and we stayed there for five days before we were taken to Mubi and then Yola where we spent five months.
"They then brought us to Maiduguri and kept us in Gubio camp. When we arrived none of us was feeling okay.
"So, they started giving us warm water and milk to drink and overtime we recovered. It was there my husband started giving information about our children that were separated from us until Red Cross finally brought them back."
Highest number of missing persons in Africa
According to tracking cases filed by the International Committee of the Red Cross (ICIR), over 25,000 persons have gone missing in Nigeria because of the violence.
"It a huge number it represents almost half of the number of the overall case load we have in the whole African continent also we think at the ICRC that this number might only represent only a fraction of the real number cause these people are only the ones we have been registering which is only upon the request of a family member," ICRC's Public Relations Officer, Lucien Christen explained.
He said that more than 95 per cent of the people went missing because of the conflict in the Northeast and more than half of the total cases were children at the time of disappearance.
Thousands of missing people displaced by the insurgency have been reconnected with their families, according to the ICRC.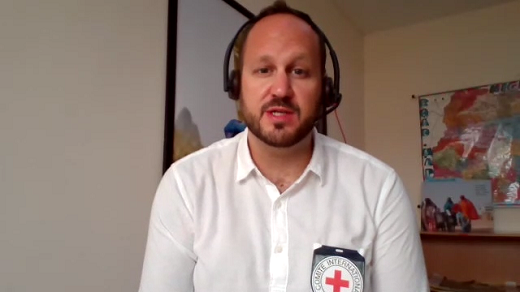 Hauwa's daughter, Hajjaja Babagana (22), is one of the beneficiaries of the ICRC's contact tracing initiative.
She is filled with resentment as she described how life was for her and her siblings while they were separated from their parents.
"The culture in Cameroon is not the same as ours. We don't pray to ever live there again because of the suffering we experienced," the Babagana girl began.
"They put us in a very small house – ten of us were living in it. They didn't allow us to step outside even to use the toilet. They gave us a container which we used right inside the room.
"In the morning they share local pancakes to us, one for each person both young and old. Some mothers give their share to their children and go without food.
"I do not understand their culture at all, and I don't even want to ever hear Cameroon mentioned in my ears," she said with unease.
Hauwa is not the only refugee that has tasted the bitter pill of displacement.
Yafanna Waziri another indigene of Kumshe said she headed the opposite direction when the attack occurred.
She and her family fled towards N'djamena when Boko Haram attacked their village.
The villagers settled in small communities along the Nigerian border, but after many attacks and displacements, they were forced to migrate to Chad.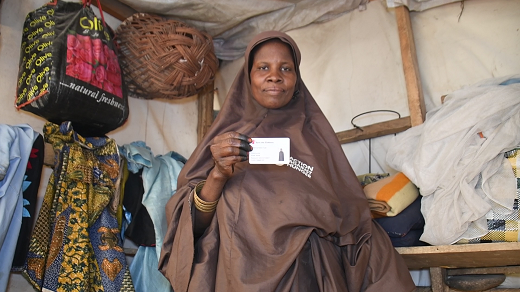 "In Chad the soldiers, referred to as "Jandarma" did not let us in, they accused us of being boko haram ourselves. We the women started going into town with our bowls begging for food from our fellow women in their homes.
"That was also stopped because they later barred us from that country and pushed us back to the bush, so we started roaming in the bush.
"Then one of our community leaders went and sought for a grace period of six months for us to stay in Kusiri town in Cameroun.
"It was within the six months that the Nigerian government heard about us then they took us to Fufore local government in Adamawa state (also a border town).
"Eleven people died from the congestion in the truck. It was from Fufore that he government of Borno state brought us to the Science School, Bama, but we still suffered attacks and when we got tired, we fled to Maiduguri and have been living here in the camp ever since," Yafanna recalled.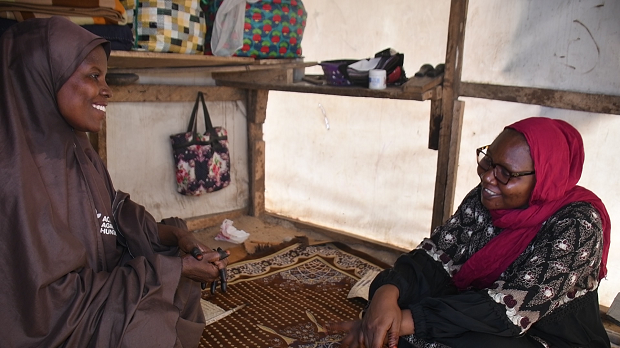 Fatima Ibrahim's experience is similar, except that her family went from village to village before settling in Bakolo, Cameroon, where she spent five years as a refugee.
"When Boko Haram attacked us in Banki, we fled to Amchida and stayed there for three weeks and then we went back home. They came back and started beheading people.
"So, we took off again on foot and the Cameroonian Government met us halfway and conveyed us in trucks to Bokolo (Minnawo) and they received us well.
"They constructed shelters for us using tarpaulins and they even provided us with food, soap, and other items.
"But we were at the outskirts of the town, and we were surrounded by security, but they didn't let us into the town.
"There are people who go to farm, some go fetching firewood, water and then they come back. Then for business purposes, some men go to Maroua, Garoua but they must present a paper they called 'card identete.'
"It was originally issued for collecting food but when you present it you can go anywhere but if you don't have it, you will be arrested.
"My brother in-law is one of those arrested and accused of being a Boko Haram and we haven't seen him till this day," she narrated.
The majority of IDPs fled their homes in a panic, leaving behind personal belongings and proof of identity.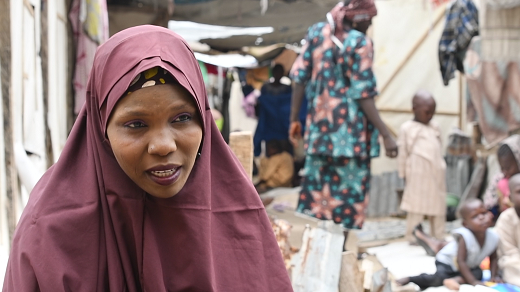 Food tickets easily replaced identity cards and those who arrived late after data were collected and tickets issued forfeited the privileges that came with the card, including food rations and a temporary identity.
In 2021, the Nigerian Government through a bilateral agreement supported by development partners repatriated over 3,000 persons from Minnawo camp in Cameroun.
Many refugees like Fatima have also made their way back home following the return of normalcy in their villages.
The Government of Diffa Region of Niger Republic also has thousands of Nigerian refugees under its care but has consistently cried out to the Borno state government to repatriate them as feeding is now a problem.
Bilateral conversations on the return of displaced persons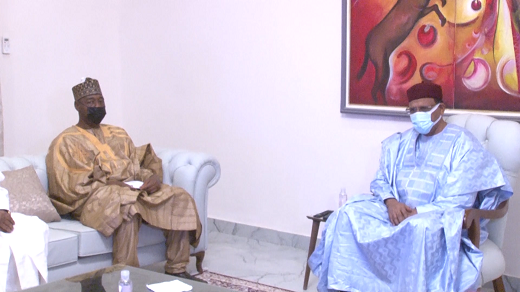 It is for this reason the Governor of Nigeria's Borno state, Babagana Zulum made several visits to Niger to further bilateral conversations as the federal government and security forces mapped out plans to return the conflict affected people.
"We thank the President of Niger and the security forces for how well they have received us. In my capacity as Borno state governor, I'll ensure this relationship is kept, Mr. Zulum said.
"And for how our people were taken care of for up to six years, we appreciate, and we promise to strengthen this bond because a neighbour is not to be joked with."
As the Nigerian government struggles not to be overwhelmed, repatriation of refugees remains a mirage if communities are still not rid of insurgents.
But the resettlement drive hangs on the Nigerian Armed Forces on whose prompt the movement of displaced people are conducted.
Armed Forces role in movement of displaced persons
Part of the mandate of the Multinational Joint Task Force (MNJTF) is to ensure the safe movement of refugees across borders back to liberated communities for safe habitation.
The MNJTF Commander, Gen. Khalifa Ibrahim, explained how the military handles the movement of displaced persons.
"It does not impede our operations because if we have operations ongoing, we advise them to hold on for a week or two before moving refugees across borders and in most cases, we are carried along so there should be no problem," said Gen. Ibrahim.
"In the Chadian town of Bakasola there are thousands of Nigerian refugees and there are plans to take them home we are at the preliminary stages.
"You cannot say you are making progress and winning the war if people are still displaced and in IDP camps.
"So, we are supporting the government. Like I said ours is to provide a conducive atmosphere security-wise.
"Now coming to the MNJTF, it is almost the same thing that we do; don't forget that the MNJTF is made up of contingents from all the countries – Nigeria, Cameroun, Niger, Chad, and Benin Republic, and of course, we work closely with national operations," he said.
Identity wars
It is true that a large number of people who were forced to flee their homes by the insurgents have returned.
But majority are fighting identity wars as many returnees have their homes occupied by those that returned before them, thereby slowing down the reintegration process.
To the Nigerian Government, home is anywhere within the shores of the country but for the refugees, living in shelters for internally displaced people's camp hundreds of miles away from their ancestry is a far cry from home.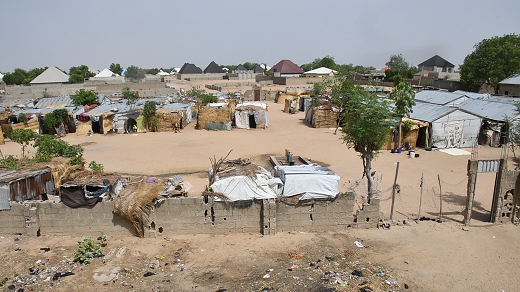 Development partners involved in the bilateral conversations have been talking to the former refugees on ways to get them fully settled.
The United Nations High Commission on Refugees said over 110, 000 Nigerian refugees are in Cameroon, adding that in March/April no fewer than 3, 600 refugees returned to Bama/Banki.
"We do expect that more will be coming but of course everything depends on the situation here.
"Return must be voluntary take place in conditions of safety and dignity and one thing that is absolutely crucial is that this return is sustainable so that when people come back, they are not displaced once more.
"We met one person for instance who came here but found her house occupied by other people.
So, she's living now with other IDPs so these are the kind of things that can be problematic and need to be addressed," said Raouf Mazou, UNHCR High Commissioner, Operations.
Children born and raised in displacement are dealing with a sense of place having lost touch with the cultural values of their hometown.
They are now faced with the reality that they were not only physically uprooted when they left home nine years ago, but their trajectory of history and culture were also uprooted.
Having survived the Boko Haram war and living in strange lands, the people will now have to fight another war of survival, disconnection, and ancestral continuity.
The children have acquired strange cultures alien to their ancestry and the journey to normalcy is still far off as there are many reasons for living in IDP camps.
Returnee migrant problems are as diverse as they are complex, and there is no straightforward solution that can address them all.
For instance, Hauwa says her hometown is still not safe enough her for return, Yafanna wants her home rebuilt while Fatima cannot go home because her home in Banki has already been occupied by early returnees.
Some community leaders have been bemoaning the lifestyle thrown at them by the protracted conflict.
"There are a lot of things that have changed, so many things. When you leave your ancestral home, your culture will have to change.
"Where we come from a culture of farming and animal breeding, but we are not able to do any of that here in the camp.
"Our children do not know how to beg or hawk sachet water but today that is what they do.
"Also imagine two to three thousand people sharing twenty toilets and in the Kanuri culture it is wrong for you and your wife and in-law to share such spaces, but displacement has packed us all here together, so we just have to manage." Bukar Mandarari one of the leaders in Kawa Maila revealed.
Our investigation reveals that the conflict-affected population's support system is manifestly out of sync with their reality.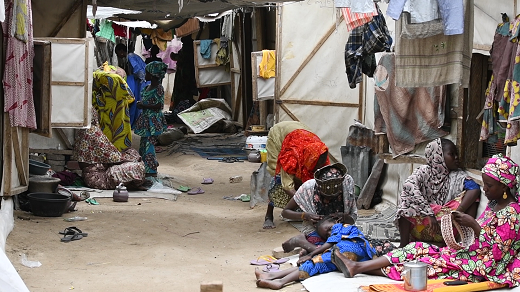 Making their homes, community, and the Nigeria's North-east safe for living is what Hauwa and her people will need to feel any form of closure.
This investigation was carried out with the support of Cell Norbert Zongo for Investigative Journalism in West Africa (CENOZO) as part of the "Media Support Initiative for the Production and Dissemination of Investigative Journalism on Migration in West Africa," in partnership with the United Nations Educational, Scientific and Cultural Organization (UNESCO).